If you need to track the progress of thousands of learners or your learners don't have work email addresses, for example, this is another way we can set up your account.
Our Large Group Quick Sign-In Option gives access to large groups of learners quickly, via a unique branded sign-in portal. It looks something like this: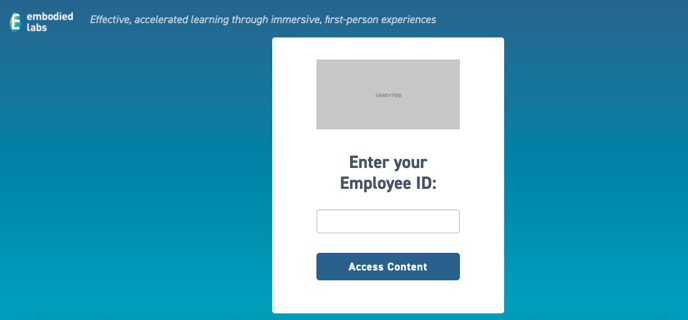 To set up your own branded portal, just confirm with your Customer Success rep:
The custom URL you'd like to use for online web immersive access:

https://app.embodiedlabs.com/login/YourOrganizationName

A login detail that all your learners have in common. For example:

Employee #
Work email address

Your organization's logo (1440x700pixels)
Your Customer Success rep will set things up, and you'll receive an email confirmation once setup is complete.
To finish setting up on your side:
Log in using your admin account once to each of the computers using the Embodied Labs VR app.
Log back out. This will refresh your account and enable the large group quick sign-in option.
Important!
Please ensure that your learners sign out once they've completed their assigned experiences, to secure their account and to be counted accurately in the analytics.
Note: This setup format is for Learners (Users) only.
Site Admins will still need to log in to the Dashboard at app.embodiedlabs.com with a standard account connected to an email address and/or phone number.