Here's how to share what's in the headset - video and audio- with a larger group in a room.
In-Person Group Mode
You may want to share the labs in a group setting. During In-Person Group Mode, one user wears the headset, while others in the room can see and hear their experience from outside of the headset.
To set up In-Person Group Mode, you can follow these steps, and use the Getting Started video as visual reference when following along. Note that the steps below are up to date, and that the video may not be up to date.
Sharing Video
First, you'll want to share the video from your PC to another screen, such as a TV or a projector.
Each Embodied Labs kit includes a video share cable that allows you to connect your PC to another screen. Depending on your laptop model, the video share cable provided will connect your laptop via USB-C (oval-shaped) or MiniDisplayport (sideways 'D' shaped) to a second screen via HDMI:
After you've connected the video share cable from your PC to another screen, the view you see on your PC's screen should show on the second screen.
If not, you can right click anywhere on the desktop, select Display Settings, and try selecting a different screen to share to.
Tip: If you don't see the same thing on the laptop's screen and the second screen you're sharing to:
1. Unplug the headset.
2. Right click on the desktop, and select Display settings
3. Click on the screen (numbered rectangle) that represents the projector.
4. Choose to Duplicate the display rather than Extend it.
5. Re-plug the headset.
Sharing Audio
After sharing the video, let's share the audio.
Your kit includes a second speaker for sharing the audio with a group:
To connect the speaker, first plug it into the PC's headphone jack, then plug the power cord into an outlet.
Note: You can avoid speaker static by plugging the speaker into the laptop first, then plug the speaker power cord into an outlet.
Open the Embodied Labs Desktop App and select an experience from the Main Menu.
Navigate through the slides until you reach the Personalize your fit screen where you will see a dropdown menu to Mirror Headset Audio.

Select the appropriate audio device such as external speakers or the speakers on your laptop computer. For most PC's this is named Speakers (Realtek High Definition Audio).
The audio will now play in the headset and through the speaker!
You can adjust the volume of your VR headset or your chosen speaker using the volume sliders. You can also adjust the volume during the experience by taking off the headset and using the sliders on the Experience Paused Screen: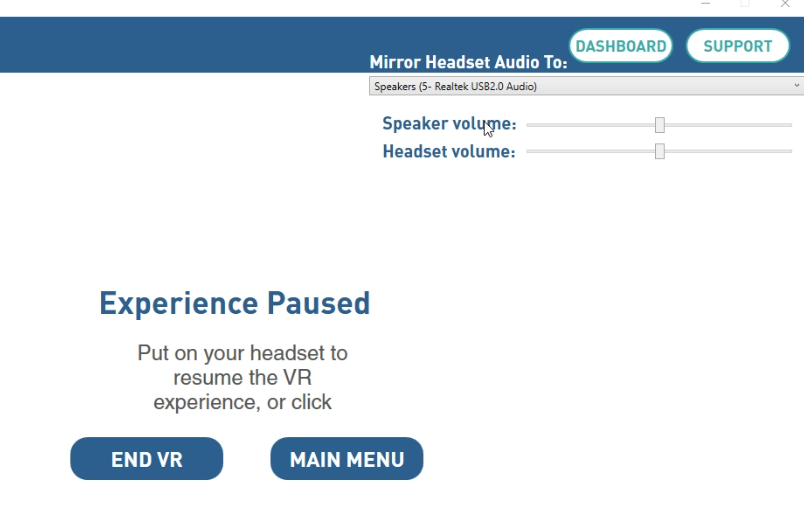 If you're having an issue with any of the above, please contact our support team.